Transform your school culture
Improve wellbeing of your staff by addressing the pressures they face
Allow them to more easily share concerns and ideas
See a positive change in teacher engagement and student outcomes
Click to sign up
Sign up for Welbee with your referral code
Staff who believe they are heard are more effective and give more of their time willingly. With Welbee, you can transform your culture and save between 20k to 100k on staff recruitment and absences annually.
Sign up for 12 months of support, a wellbeing toolkit, Welbee Voice for feedback collection and a comprehensive evidence-based Survey.
Get honest staff feedback
Welbee Voice allows you to start anonymous and open two-way conversations with your staff. Invite all staff or select specific groups to consult, give feedback or share ideas.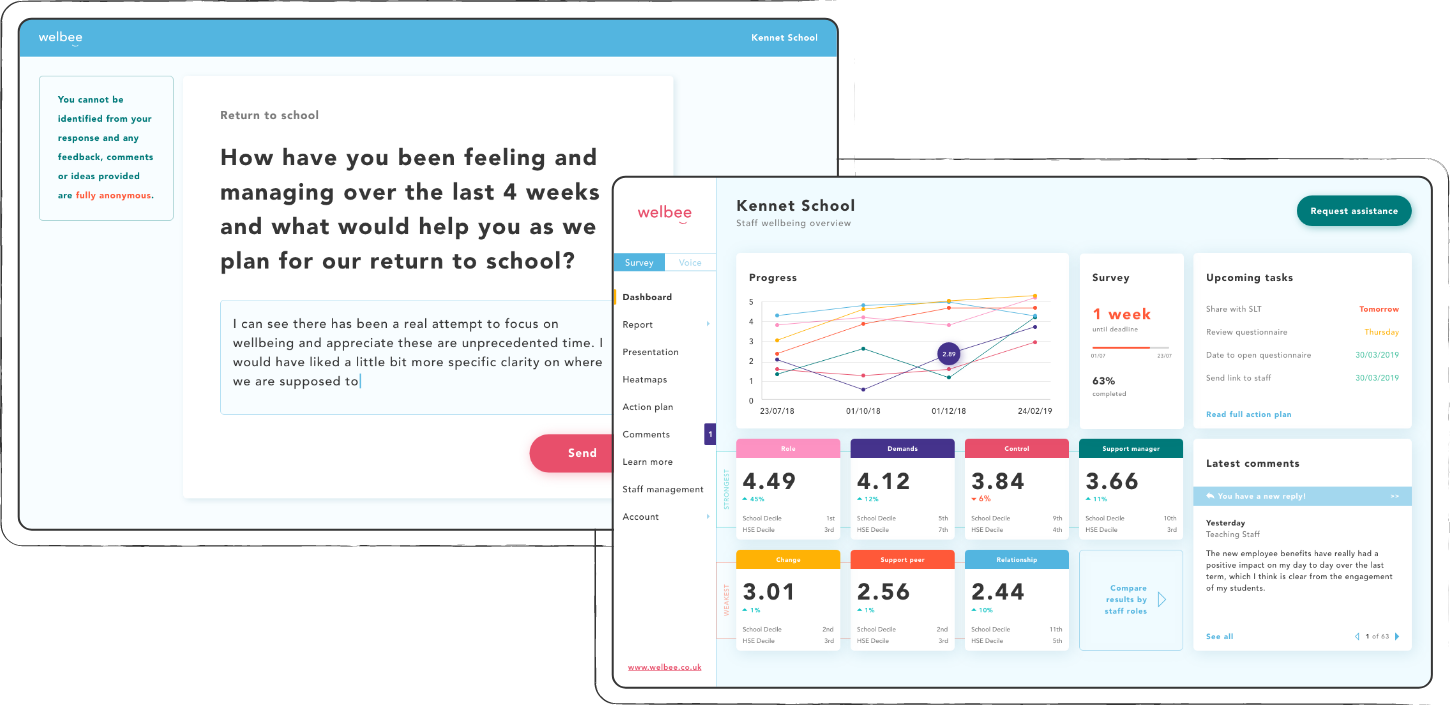 Get tangible benefits
Our comprehensive Survey is an easy way to improve your staff wellbeing. Benchmark your results against other schools, use heat-maps to identify priorities and take recommended actions
How Welbee can help transform your culture
The benefits for you and your school
12 months of our support, a wellbeing toolkit, and an easy-to-use platform to run a survey and start conversations with your staff. 

All staff responses and scores are stored securely in one place, with an option for you to reply, ask follow-up questions, benchmark against other schools or save for OFSTED inspection.

A range of filters to drill down and get a better understanding of the specific pressures your staff face. Priority actions for each of the six Management Standards that are likely to most benefit your staff and school.

Give your staff a greater voice, allow them to raise things important to them, suggest ideas and create ongoing and open conversations.

A full money back guarantee for the first time you use Welbee. You can try it risk free and we are very confident you won't be disappointed.
Special pricing for referred schools
The annual investment gives you access to Welbee Survey, Voice Pro, toolkit and 12 months of support. It is linked to the size of your school and therefore the value and return you will receive. You can also sign up for Voice Pro separately from the rest of the services starting from £79 per year + VAT.
*The prices above exclude VAT. Additional savings available for MATs and groups of schools working together – ask us for more details.
Our money-back guarantee
If for any reason you don't get the value expected from using the survey and report then we wouldn't want you to pay and will refund your money.
Start using Welbee at your school
Use your referral code and receive an invoice for a discounted price. If you have any questions or technical difficulties, simply email us at service@welbee.co.uk.