Happy staff, inspiring results
At Welbee, we help you improve staff wellbeing at your school:
Understand the pressures your staff face
Get the best engagement from them
See a positive change in your students' results
You can trust us
"The survey enabled us to identify areas of strength and where we could focus for improvement. The analysis and recommended actions allowed us to quickly implement effective changes to benefit both support and teaching staff."

"I found the whole process very useful, user-friendly and it was easy to review our results. We were able to quickly identify the right actions and it was so powerful – we can already see a difference in our school and nursery."

"The depth of reporting and insights provided made it very easy to see what was important and helped us focus on the areas that would have the biggest impact. I was surprised at the detail provided for the low investment."
Staff wellbeing makes the difference
Welbee for your school
We deliver everything you need to improve the wellbeing of your staff, from our free learning centre to a comprehensive tool that you can use at your school:
Detailed reporting dashboard
Benchmarking against other schools, using heat-maps to identify priorities and recommending actions you can take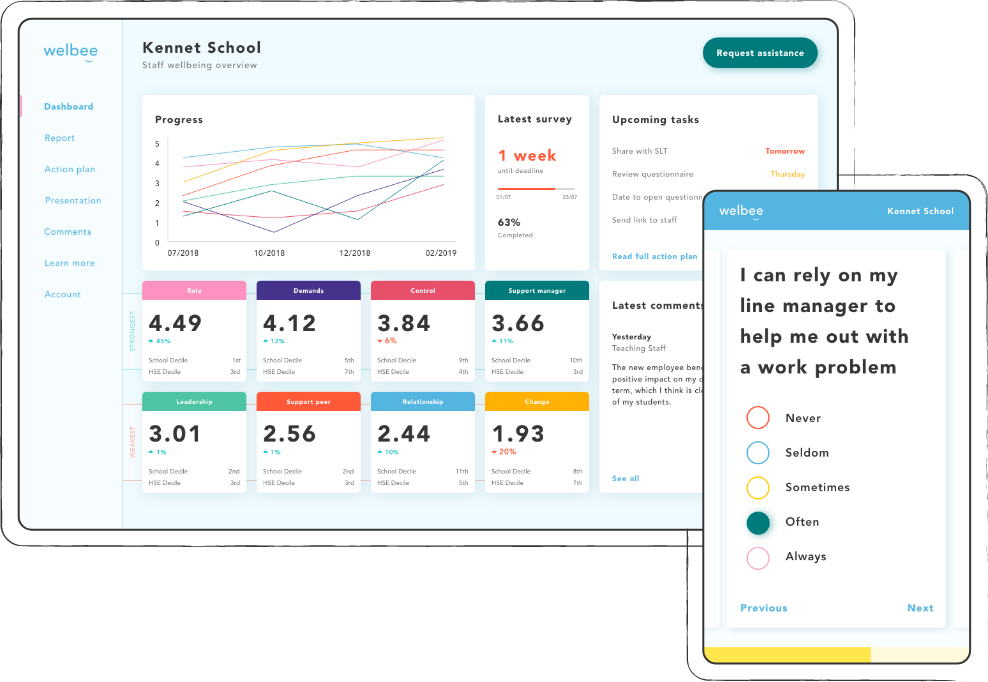 Anonymous surveys
A recognised, evidence-built survey collecting honest feedback from your staff and allowing you to anonymously respond to them
What is included in the Welbee tool
An evidence-built anonymous survey using the Health and Safety Executive's Management Standards approach to tackling work related stress and staff wellbeing

A fully automated process following set up

Benchmarked scores against other schools and cross sector organisations.

A range of filters to enable you to drill down to better understand where to take action

Priority actions for each of the six Management Standards and the top three actions overall that are likely to most benefit your staff and school

Collection of staff comments to provide deeper insight. You can also respond anonymously to seek more information or to address concerns

A downloadable PowerPoint of your results to make sharing results with staff easy

Remote support to answer specific questions and provide advice

A full money back guarantee for the first time you use Welbee. You can try it risk free and we are very confident you won't be disappointed
Welbee benefits
Understanding and improving your workplace culture to provide a school environment where your staff and students will thrive and achieve.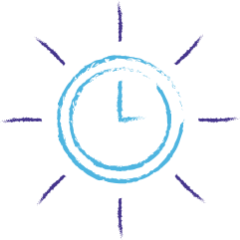 Time-effective
Welbee has been built with schools for schools and specifically for busy school leaders. Our dashboard highlights the priority actions to save you time.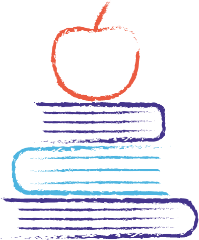 Healthier, happier staff
Focus on the actions that will have the greatest impact in your school or Multi-Academy Trust; improve staff engagement and school outcomes.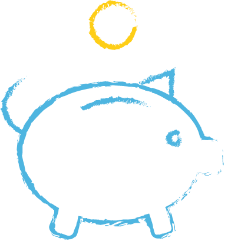 Reduce costs
A reduction in staff recruitment, absences and cover allows you to cut costs and prioritise spending on student outcomes.
Evidence to meet your inspection and legal requirements
Manage the risks of workplace stress and show you have effective management standards in place. Demonstrate you are taking account of the pressures staff face and are taking action to reduce them, including their workload and protecting them from bullying and harassment. Easily share this with inspectors and other stakeholders. If you are inspected by Ofsted you will be able to clearly show you meet the Leadership and Management judgement included within the new framework.
Pricing
The annual investment you need to make is linked to the size of your school and therefore the value and return you will receive. The prices below exclude VAT.
*additional savings available for MATs and groups of schools working together – ask us for more details.
Our money-back guarantee
If for any reason you don't get the value expected from using the survey and report then we wouldn't want you to pay and will refund your money.
Start using Welbee at your school
Simply click the button below to buy Welbee for your school or email us at service@welbee.co.uk if you have any questions.
Buy Welbee